The Jesuran Welfare Services trading as Jesuran Wellness Centre is the welfare arm of the foundational organization -the Jesuran Healing Ministry -established and founded in September 2012. The ministry provided inner healing with a team every Saturday at the United Church in Endeavour Hills.
The following month the first three refugees were brought into the Healing Ministry and 7 more at the end of the month. 25 more by December and 40 in January 2013 and so on – for Pastoral care, material aid, housing, resettlement, inner healing, trauma healing and much more to about 500 Srilankan /Indian refugees and asylum seekers. This was ministered till May 2015 freelancing with much needed material help from Churches and doners.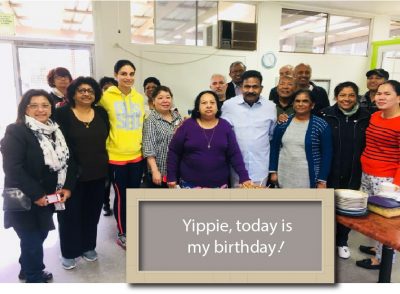 We were directed to move to the adjacent suburb -Dandenong to establish a refugee and asylum seeker centre down Herbert Street from Endeavour Hills. Where we believed 5000 Tamil refugees and asylum seekers were living either in alcohol or drug abuse and depressed. These new migrants had fled from Sri Lanka and India in boats for days and months in the hope they would find jobs, new life . Their hopes were dashed when the current government made it mandate that they have no jobs they could apply or for schools the children could go to. Practically no where to go or survive.
In faith a 4 roomed commercial building was leased out. A ram shackled weather board building was renovated with funding from donors and the bare hands of 10 asylum seekers completed the renovations. The construction of our very first refugee and asylum seeker centre -THE JESURAN WELLNESS CENTRE down Herbert Street Dandenong, was established . We opened the centre 5 days a week and healing on Saturdays. 10-12 dedicated volunteers came almost every day, and 20-25 refugees and asylum seekers found a sanctuary that welcomed them, loved them, and helped them in various ways.
The following amenities were offered:
Lunch for the refugees and asylum seekers /volunteers every day. A weekly box of dry ingredients and vegetables were picked up by the families that came to the centre.
Pool table/newspapers to read with coffee and tea and other recreational facilities.
English classes during the day and night.
A play group for children.
Centrelink, Dandenong police and protective measures, Immigration, Visa, legal advice forums were organized periodically to assist them to assimilate and integrate.
A Tamil Alcoholic Anonymous group was established and linked with the main AA association. An English AA session was run also every week.
A rehabilitation men's group to educate them from domestic violence.
A catering service with a lunch with Srilankan savory and sweet dishes / grooming 6 Tamil women to become professional caterers and in house orders from the community was provided.
Inner healing and trauma healing.
Driving lessons
Fortnightly In-house medical services and a monthly after-hours doctor with medical supplies was also made available once a month.
Networking support and many more supportive amenities were given in support and rehabilitation.